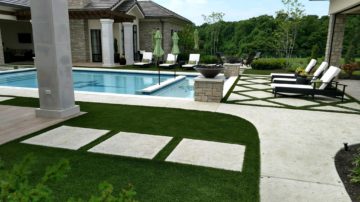 Xtreme Green Synthetic Turf is the premier backyard and synthetic turf installer in the Kansas City area. We know that maintaining natural grass is always a challenge that never seems to be complete, that's why synthetic turf is the answer so that you can always have a beautiful lush color, requiring very little maintenance and can handle almost all types of traffic and doesn't trample.
Synthetic turf, sometimes referred to as artificial turf from Xtreme Green Synthetic Turf of Kansas City has the answer if lush green turf is what you're looking for. Artificial turf in Kansas City is something that will give your family, business or sports facility an opportunity to use no matter the weather along with easy care free maintenance. Our professional installation crew has installed hundreds of thousands of square feet of synthetic turf in a large number of different applications in Kansas City.
Synthetic turf from Xtreme Green is much more than just fake grass, it gives you freedom back to do the things you love without being required to maintain your lawn. Say goodbye to never ending fertilizing applications, overseeing, patching, aerating and more.
Synthetic Turf We Install in the Kansas City Area:
Backyard Putting Greens Synthetic Turf
Baseball / Batting Cages
Pet Turf
Playground Turf
Sports Fields Turf
Backyard lawn turf
We only use high quality synthetic turf that was developed to look just like natural grass. Long gone are the days of turf that doesn't look real and can easily be determined that it is fake. Our highly skilled professionals will help you determine which type of turf is right for your backyard or facility. This way you have the correct turf that matches your application, maintenance requirements, and budget.
Backyard Putting Greens in Kansas City
Want to improve your golf game? We can help. Ready to transform your backyard in to the yard that you have always wanted? We can help! Want a yard that includes a backyard putting green? Get high quality turf that allows you to take your backyard dreams and develop them in a reality with Xtreme Green Synthetic Turf. With many different turf types, get the exact putting surface that suits you best. In addition to just putting greens, our professional installers can design and implement sand traps surfaces as well. Start perfecting your putting game today.
Click here to contact us or click here to learn more about our backyard putting greens.
Fake Grass in Kansas City, Missouri
If fake grass in Kansas City is something that you're looking for to place at your home, backyard, or sports facilities, Xtreme Green Synthetic Turf has the answer. We're proud to be a dealer of STI products. STI is a premium turf company that was designed initially for the golfing industry in 1995. The product has since been used in a wide variety of applications. With over 24 years of fake grass experience in Kansas City, Xtreme Green can design and install that backyard putting green, dog park, or sports turf that you have always wanted, just without the maintenance that real grass requires.
Why Fake Grass from Xtreme Green Synthetic Turf in Kansas City
The fake grass that we supply Kansas City residents is the turf that you need to make your turf project complete. Synthetic Turf International, STI, has developed turf that is high quality, looks similar to grass, and is affordable for all projects. We help take your turf dreams and make them a reality. If you are looking for additional information on fake grass in Kansas City, click here to contact us today!
Why Artificial or Synthetic Turf in Kansas City
Easy maintenance – synthetic turf is incredibly easy to maintain, especially when compared to natural grass. No need to seed, patch, spray for weeks, or aerate.
Increased traffic? No problem. – our turf can handle a large amount of foot traffic, even in the rain. This means no more muddy shoes or paws.
Possibilities are endless for synthetic turf in Kansas City – when you work with our expert turf installers in Kansas City, you can share your thoughts, and then see how we can make it happen! Check out the photos at the bottom of this page to check out many of the projects that we have completed.
Beautiful appearance year round – No more brown grass, no more muddy areas when it rains too much. Synthetic turf will remain beautiful year round.
Requires no water – Even with the hot Kansas City summers, you no longer have to water your turf.
Always ready for use – Even if it just rained, our surfaces are always ready for use, and are always mud free.
Saves you time and money – Time is precious. With synthetic turf you can get much of that time back by no longer being required to constantly be maintaining your surface. Since you no longer have to water grass, save big bucks on water for irrigation and maintenance of that irrigation system.
No more chemicals, fertilizers, or pesticides – No more spreading chemicals that are harmful to humans, animals and more importantly the environment.
Synthetic Turf in Kansas City, Missouri Gallery
Take a look at many of the projects that Xtreme Green Synthetic Turf has completed for clients in Kansas City and nearby locations. Whether you're looking for a backyard putting green, dog turf, sports fields, or any other turf project, the below photos can help serve as inspiration for your next project!