Do you rely on your pool to provide relief from the summer heat? If so, you're not alone!
Although a pool offers a comfortable escape for your family to enjoy during the hottest months of the year, an inadequate pool deck might make the experience a little less enjoyable. Instead of opting for a natural grass or concrete pool deck, you may want to consider installing artificial grass around your pool!
To equip you with all the information you need to make a confident decision, we've compiled a list of four reasons why you should add fake grass around your pool.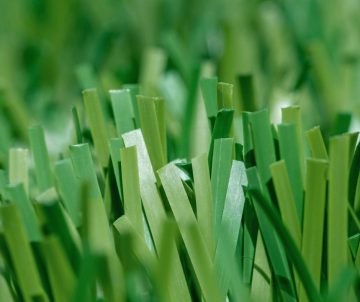 1. Pool Turf Safety
If you have children, you understand how important pool safety is — and that doesn't just refer to when your children are in the water.
Even when you tell kids not to run around the pool, they're still going to do it from time to time. If your pool deck is made of concrete, it can get incredibly hot and cause second-degree burns if those walking or running on it have bare feet! Not only that, but concrete can become extremely slippery when wet. Slips and falls can lead to serious poolside injuries, which is why artificial turf can be a great addition to your pool deck.
When the fake grass gets wet, it may still be a bit slippery but it won't be as slick as concrete. This reduces the chances of children slipping, falling, and injuring themselves when they run around the pool. Plus, falling on synthetic turf is a bit more forgiving than concrete, reducing the chance of abrasions.
2. Splash Turf Drainage
Pool water doesn't always stay in the pool, especially if you have a group of rambunctious children splashing around and having a good time. Splashing, playing, diving, and climbing in and out of the pool often results in water pooling on the concrete or natural lawn surrounding your pool.
When the amount of water builds up on the pool deck, it not only creates a safety hazard but can lead to drainage issues and puddles. Too much water can wreak havoc on your natural lawn, turning into mud patches and killing the grass.
Instead, artificial turf offers effective drainage for pool runoff without getting muddy or creating a mess around your pool.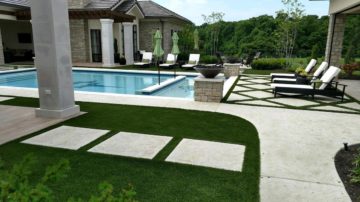 3. Artificial Pool Turf Maintenance
Have you noticed cracks or chips in the concrete of your pool deck? Or do you have natural grass surrounding your pool that is constantly turning brown or getting flooded with pool water runoff?
Instead of stressing about maintaining your pool deck to keep up its appearance, you can have peace of mind with artificial turf.
Once you install artificial grass on decking, you can say goodbye to unwanted grass clippings, mud puddles, and discolored lawns. Synthetic turf is extremely durable and essentially maintenance-free, allowing you to enjoy the lush green fake grass without the headache of mowing the lawn or sealing cracks in the concrete.
4. The Amazing Appearance of Synthetic Pool Turf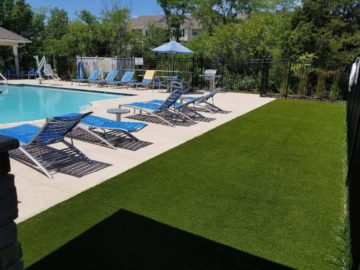 After investing in a luxurious pool for your friends and family to enjoy, the last thing you want is for your pool deck to become an eyesore that detracts from your pool's beauty.
Luckily, with an artificial turf pool deck, you can rest easy knowing that you'll never have to sacrifice appearance. When professionally installed, your artificial grass pool surround will offer the look of real grass without the headaches that come along with it. Don't stress about maintaining your pool deck when you can sit back and feel the comfortable synthetic turf on your bare feet as you make your way into the pool to escape the summer heat.
When it comes to artificial turf installation companies, there's only one name you need to know — Xtreme Green Synthetic Turf of Kansas City, Missouri. We are a proud dealer of STI products, providing the tools and expertise you need for superior, professional synthetic turf pool deck installations in the Kansas City, MO area and beyond.
Fill out a contact form today to receive a free estimate on your project!